Free VPNs for Netflix: Here's what we recommend
Is it possible to use a free VPN to unblock Netflix? We've looked into it and found a couple of working options.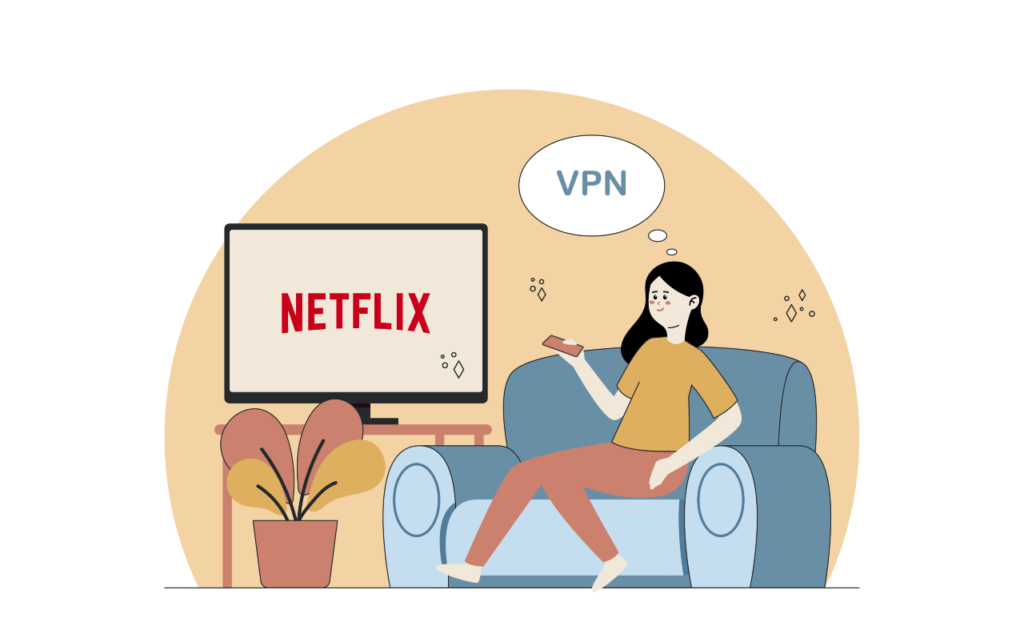 There are over 15,000 movies and series available on Netflix worldwide, but most of them cannot be streamed without the help of a VPN. Typically, browsing only your home country catalog limits you to 5,000 to 6,000 titles, causing you to miss out on two-thirds of the content you could have enjoyed.
While there are many paid VPNs that manage to unblock most of Netflix (check out our guide to the best ones here), there are also a couple of free options that might work, depending on your requirements. These VPNs could be suitable if you don't need access to all catalogs or if you are willing to accept less reliable, or lower quality, access to the streaming service.
In this article we'll take a look at a completely free VPN that works with Netflix, examining its advantages and limitations. If you prefer a VPN that manages to reliably unblock almost all of Netflix, we recommend ExpressVPN. While not free, you can try it for 30 days and get a full refund if you cancel before the trial period ends. Perfect if you only want to watch a few movies or if you plan to binge a series.
Try ExpressVPN Now » 30-day money-back guarantee.
Working option: Free version of AtlasVPN
AtlasVPN is a paid VPN service that also provides a completely free, but somewhat limited, version. Finding the signup page for the free version on their site can be a bit tricky as they try to steer you towards paying, but click the "Log in" link in the top right corner before finding a "Sign up" (or "Get started") link on the next page that opens.
Once there, you can sign up using only your email and without having to provide any credit card details - the whole process is super simple and takes less than 5 minutes.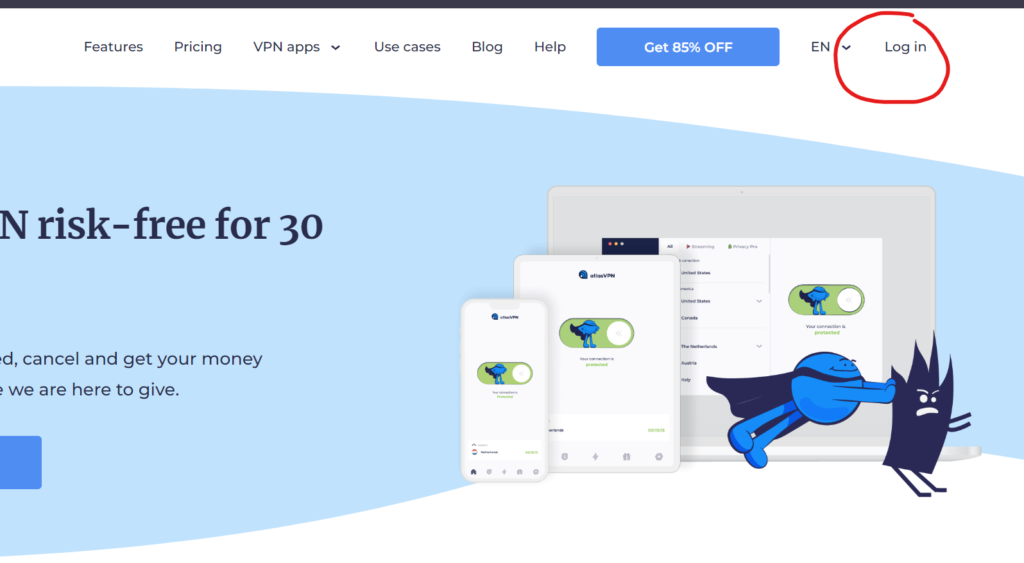 Does it work with Netflix?
The free version of AtlasVPN includes access to 1 server in The Netherlands and 2 servers in the US (specifically, Los Angeles and New York). Only the US servers are compatible with Netflix but the good news is that both of these servers worked seamlessly without any issues. Considering that American Netflix is typically what you want to unblock, this is a positive outcome. If you're already in the US and want to unblock the catalogs of other countries, AtlasVPN will do you no good, at least not the free version.
We're based in Sweden and managed to stream our test movie, Terminator 2 -currently only available in Canada and USA - without any interruptions or buffering problems.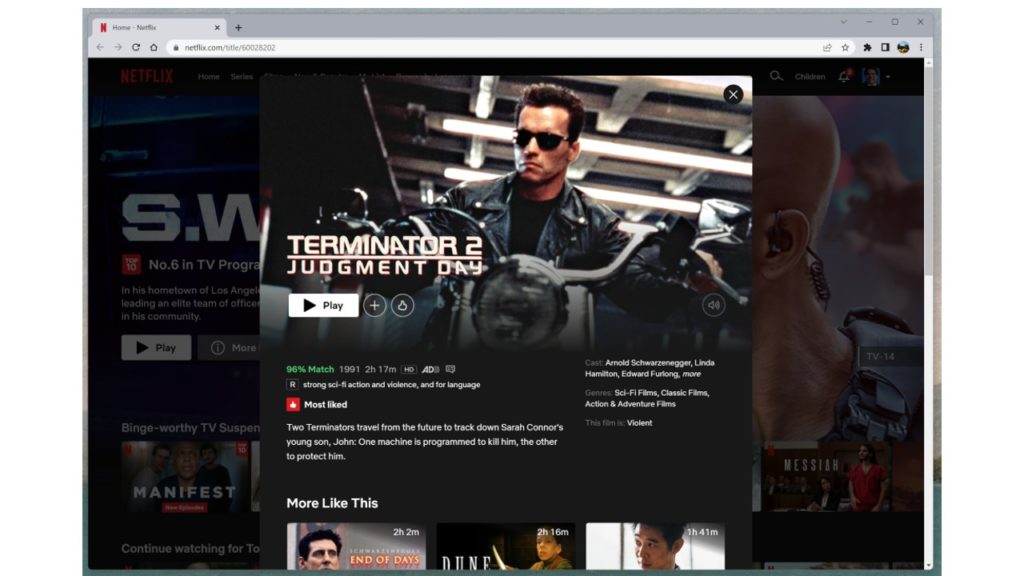 Limitations
While being able to unblock American Netflix for free is awesome, the bad news is that unless you pay, you can only transfer a maximum of 5GB per month. This is a pretty serious limitation since high quality video requires a lot of bandwidth and will deplete your allowance very quickly.
What does 5GB translate to in terms of "hours watched"? Well, according to Netflix, an hour of streaming is about 300MB on Low Quality, 700 MB on Medium Quality, 3GB on High Quality (1080p) and 7GB on Ultra HD (4K).
Basically, forget about Ultra HD, stick to Medium and you'll get 7-8 hours of free Netflix VPN time each month. Enough for 3 movies or a full 10 episode season of your fav series (as long as each episode is 45 min tops).
Speed
The server speeds are great and more than enough to stream in 4K quality without any buffering. Considering the data limitation we just mentioned above, you might want to think twice about streaming in this quality.
Using Google's speed test we experienced a performance loss of about 20% when connecting from Sweden to Los Angeles, halfway across the globe, which is not too bad.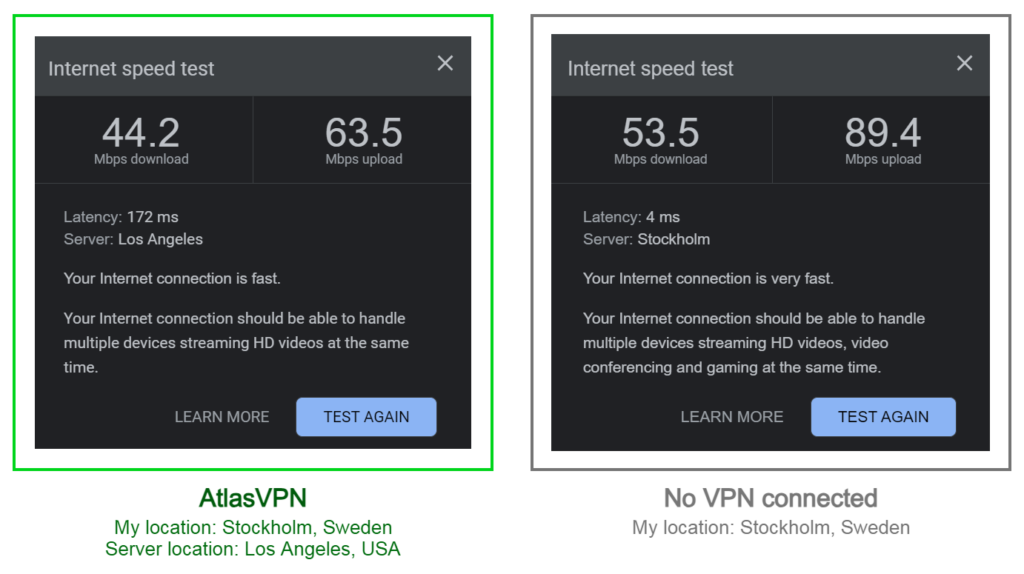 Our verdict
All in all, AtlasVPN is one of the few truly free VPN options that work with Netflix. It is fast, very easy to set up and works for unblocking American Netflix. The drawback is that it limits you to 7-8 hours of medium quality streaming per month.
---
Price: Free, no credit card necessary
Unblocks Netflix: USA
Limited data transfer: Yes, limited to 5GB per month
AtlasVPN Website
Other free VPNs and their Netflix compatibility
Windscribe
Works for some locations. Out of their supported free locations we managed to unblock the following Netflix libraries: France, Germany, The Netherlands, United Kingdom, Switzerland, Turkey and Romania. Data transfer is limited to 10GB per month (2GB if you don't give them your email).
ProtonVPN
Does not work. Offers a completely free version that includes 3 locations without any limit on the data transfered: Japan, The Netherlands and USA. We couldn't get either of them working with Netflix.
Tunnelbear
Does not work. They also limit data transfer to 500MB per month, which wouldn't be enough for any streaming at all.
Hide.me
Does not work. We tried all their free server locations and didn't manage to unblock any Netflix libraries at all.
VPNhub
Does not include the desktop client in the free version. The Android version wasn't available for download on Google Play in Sweden so we couldn't test it.
Semi-free option: 30 day trial of ExpressVPN
OK - ExpressVPN does not offer a free version but we still feel we have to mention it in this article because it is the best VPN for unblocking Netflix, and it works for most locations. If you have a specific movie that you want to stream in mind and just want something that works, we recommend that you sign up for ExpressVPN. You will have to provide your credit card information, but if you cancel the subscription within 30 days, you will get a full refund, essentially making it free.
Try ExpressVPN Now » 30-day money-back guarantee.
Conclusion
There you have it! You can unblock Netflix for free, even though the experience might not be as smooth as using a paid VPN. Personally, if we couldn't use ExpressVPN, we would install both AtlasVPN and Windscribe and use Atlas for American Netflix and Windscribe for the rest. That combination will get you very far, for no money at all.